Better Homes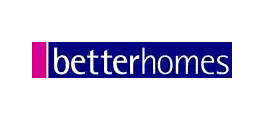 About Better Homes
Company Industry: Real Estate
Company Location: United Arab Emirates
Better Homes has been the leading real estate agency in Dubai and Abu Dhabi for over 23 years. We help clients to buy, sell, rent, or manage residential and commercial property.

With operations now in Sharjah and the Northern Emirates, Better Homes provides unmatched property services throughout the UAE. Our 12 locations and experienced team of over 400 real estate professionals stand ready to assist clients with any real estate requirement, and on our website clients can find the region's most comprehensive selection of Dubai property.

From a one-woman enterprise in 1986, we've grown into a 400+ workforce catering to a diverse range of property services, such as, Residential and Commercial Sales and Leasing, Short Stays, Property Management, and Project Sales and Marketing across the Middle East.

We've also made our presence felt in international markets across the world with our exciting range of properties that cater to the homeowner and the investor.

With our complete range of property solutions, we give you a whole new property experience that is reliable, convenient, transparent, and safe.
Vacancies at Better Homes
Find the latest vacancies advertised in 2014 by Better Homes.
Why not try a general search for Better Homes on Khaleej Times for other possible opportunities?