Jeraisy Computer & Comm. Services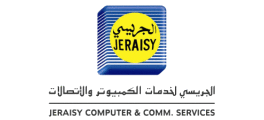 About Jeraisy Computer & Comm. Services
JCCS is involved in marketing, selling, installation and maintenance of computer and communication Integrated Systems, hardware, software, Network and accessories in addition to consultancy and other professional services in the Information Technology field. JCCS has three major branches in Saudi Arabia and sales and service outlets with over 1400 professionals providing services in the IT field. The company was established in 1982 and it is the second largest company in Jeraisy Group, one of the largest groups in office automation in the Middle East.

JCCS represents major IT manufacturers in Saudi Arabia including HP, SUN Microsystems, Cisco, Microsoft, Oracle, Citrix, Avaya and other international companies.
Vacancies at Jeraisy Computer & Comm. Services
We're sorry. At the moment there doesn't seem to be any opportunities from Jeraisy Computer & Comm. Services. Why not try a general search for Jeraisy Computer & Comm. Services on Khaleej Times for other possible opportunities?